Exquisite Bridal Set Rings: Stunning Wedding Bands for Your Perfect Day!
Looking for the perfect wedding bands without breaking the bank? Discover the perfect wedding bands, available in a variety of options, including natural diamonds, lab-grown diamonds, and moissanite, ensuring affordability without compromising on elegance.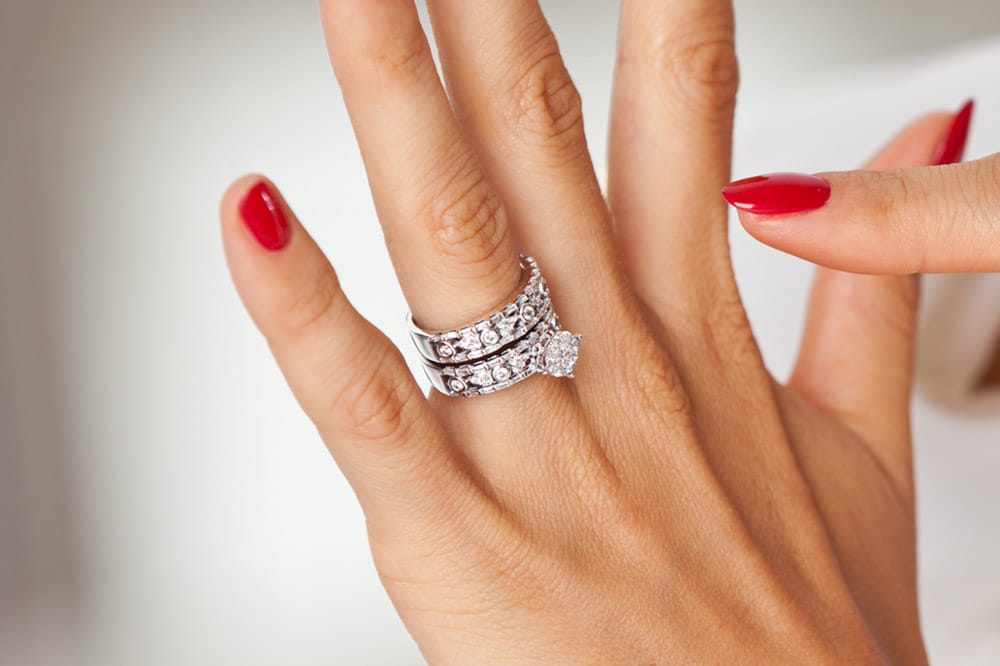 Bridal set rings are a popular choice for couples looking to symbolize their love and commitment. These sets consist of a matching engagement ring and wedding band, designed to complement each other flawlessly. Not only do bridal sets offer aesthetic appeal, but they also provide practical advantages.
Discover the various styles, tips for selecting the perfect engagement ring and wedding band, coordinating metals and finishes, customization options, care and maintenance, and where to shop for these exquisite bridal sets.
What Are Bridal Set Rings?
Before delving into the selection process, let's understand what bridal set rings entail. A bridal set comprises an engagement ring and a wedding band carefully designed to match and create a cohesive look.
These sets ensure that both rings harmonize seamlessly, making them an ideal choice for couples seeking a unified symbol of their everlasting love. By choosing a bridal set, you can enjoy the convenience of purchasing both rings together while also saving time and effort in the selection process.
Advantages Of Choosing A Bridal Set

There are several advantages to selecting a bridal set for your special day.
First and foremost, these sets are specifically designed to complement each other, ensuring a harmonious and stylish look on your finger.
By opting for a bridal set, you can be confident that the rings will fit together perfectly without any gaps or inconsistencies.
Additionally, purchasing a bridal set can often be more cost-effective than buying the engagement ring and wedding band separately.
Styles And Designs of Bridal Sets

Bridal sets come in various styles and designs to suit every couple's preferences. From classic solitaire settings to dazzling halo or three-stone designs, there is a style for everyone.

When selecting a bridal set, consider the overall aesthetic you desire and the level of intricacy you prefer. Explore different metal options, gemstone accents, and unique design elements that match your taste and style.
Selecting The Engagement Ring
Choosing the engagement ring is a significant step in finding the perfect bridal set. When making your decision, take into account the following factors:


Style

Explore popular engagement ring styles such as solitaire, halo, three-stone, or vintage-inspired designs. Each style has its unique charm and appeal. Coordination with the Wedding Band

Remember that the engagement ring and wedding band should complement each other visually. Consider how the two rings will fit together on your finger and ensure a cohesive look.
Metal, Diamond, And Setting

Pay attention to the metal choice, diamond quality, and setting style of the engagement ring. Opt for metals like white gold, yellow gold, rose gold, or platinum based on your preferences and budget.
Choosing The Perfect Wedding Band
The wedding band plays a crucial role in completing the bridal set. Consider the following when selecting your wedding band: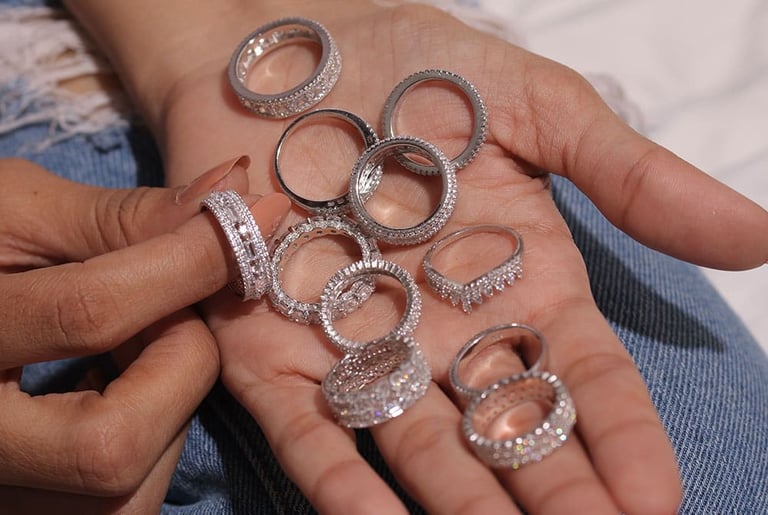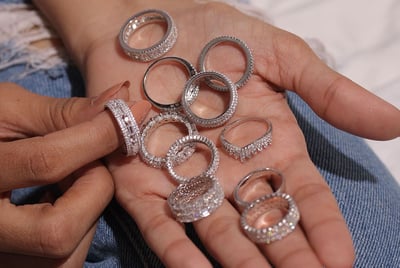 Complementary Styles

Explore wedding band styles that enhance the beauty of your engagement ring. Options like contour, enhancer, or eternity bands are designed to fit snugly alongside the engagement ring, creating a stunning ensemble.
Metal And Design Elements

Ensure that the metal and design elements of the wedding band harmonize with the engagement ring. Matching metals and coordinating design accents create a cohesive and elegant bridal set.
Gemstone Accents

If you desire additional sparkle, consider wedding bands with gemstone accents that complement the engagement ring. Choose gemstones that align with your personal style and preferences.
Coordinating Metals And Finishes
When it comes to coordinating metals and finishes within your bridal set, keep the following in mind:
Matching Metals

Aim to match the metals of the engagement ring and wedding band for a seamless look. Options like platinum, white gold, yellow gold, or rose gold each have a unique appeal.
Finishes

Consider the impact of different finishes, such as high polish, matte, or hammered, on the overall appearance of your bridal set. Choose finishes that enhance the desired aesthetic and complement your personal style.
Consistency

Maintain consistency in metal choices throughout your bridal set to ensure a cohesive and harmonious look. Consistency in metals and finishes contributes to a visually appealing and unified set.
Side Stones And Accents

Explore adding side stones or accents to your engagement ring or wedding band. These additions can enhance the overall sparkle and beauty of your bridal set.
Unique Design Elements

Consider incorporating unique design elements like engraving, filigree, or milgrain detailing to add a touch of individuality and personalization to your rings.
Working With Jewelers

Consult with experienced jewelers who can guide you through the customization process, ensuring your bridal set reflects your unique style and relationship.
Conclusion
Affordable bridal set rings offer a wonderful opportunity to celebrate your love without breaking the bank. By carefully selecting the engagement ring and wedding band, coordinating metals and finishes, exploring customization options, and properly maintaining your rings, you can create a stunning bridal set that symbolizes your unique love story.
Remember to shop from reputable sources, seek trusted jewelers' guidance, and let your personal style shine through. Enjoy the journey of finding the perfect affordable bridal set that reflects your love and commitment for a lifetime.