Diamond Engagement Rings In Albuquerque, NM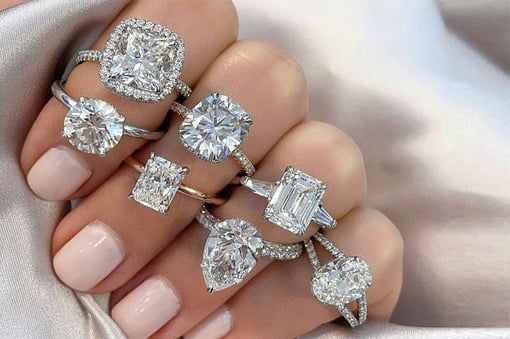 Venazia is the greatest trusted online name in the jewelry industry for fine jewelry, offering a wide range of diamond engagement rings. All our products are handcrafted in the US by the finest and most talented jewelers.

Most of our diamond engagement rings are available either at our Albuquerque store or ready to ship overnight from our US main office.

Venazia has a team of professionals available for a one-on-one free consultation in order to advise you with your decision based on your criteria.


The purpose of this page is to go over the many steps in order to help you make the smartest pick.
How Much Should You Pay For An Engagement Ring in Albuquerque, NM?
People spend all kinds of amounts of money when buying an engagement ring, however it is always specific to each individual because it is based on their monthly salary.
Engagement Ring Pricing in the US Explained
According to The Knot and other reliable sources, Americans spend an average of $6,000 on an engagement ring.
However, this amount requires further explanation:
As a guideline, an engagement ring should cost you 2 to 3 months of your revenue.
Be aware that for a same dollar amount you can get very different stone size and carat weight depending of the kind of gemstone you will pick.
Here is a quick guide to help you understanding the different gemstone size you can get for the same money.
Engagement Rings Price Comparison Table

Engagement Ring Budget
Diamond Engagement Ring
Lab Grown Engagement Ring
Moissanite Engagement Ring
$2,000 to $4,000
0.60 Ct (5.2mm)
0.80 Ct (6.0mm)
2.00 Ct (8mm)*
$4,000 to $6,000*
0.80 Ct (6.0mm)
1.00 Ct (6.5mm)
4.00 Ct (10mm)*
$6,000 to $8,000
0.90 Ct (6.3mm)
1.25 Ct (7.0mm)*
6.00 Ct (12mm)
$8,000+
1.00 Ct (6.5mm)*
1.80 Ct (7.8mm)
8.00 Ct (15mm)
*Most popular selection in 2023
How To Get The Finest Diamond Engagement Ring Near Albuquerque, NM?
Picking the perfect engagement ring may be a complicated and challenging process. However, splitting the process into two segments will help you narrow down your options. It will also keep you from making mistakes and boost your trust in your decision.
6 Steps to Selecting A Diamond Engagement Ring in Albuquerque, NM
The steps below will guide you through the process of designing your engagement ring in Albuquerque, NM:
Determine the style of the engagement ring.

The style of the engagement ring you need will be influenced by the taste and life style of your partner. But, the solitaire ring is the most common engagement ring style.
You can also select your diamond engagement ring among the several available engagement rings styles, such as:

Select the right gemstone shape.

The shape of the engagement ring is important and should be determined by your partner's desires. The different shapes available for an engagement ring are:

Click here to get more informations about the different shapes of engagement rings.

Choose the engagement ring setting in Albuquerque, NM.

The purpose of a ring setting is to elevate the elegance of an engagement ring. Understanding which kind of setting you desire will help you narrow down your options and accomplish your diamond engagement ring design.

Prong Setting
Pavé Setting
Channel Setting
Tension Setting
Bezel Setting
Cathedral Setting
Bar Setting

Click here to learn more about the different existing styles and settings and what they represent.

Decide on the metal type.

The two major types of metals used for an engagement ring are platinum and gold.
The price difference between a platinum and a gold diamond engagement ring is mostly attribuable to the metal's purity level.
The platinum diamond engagement ring is normally $500 to $800 more expensive than a gold diamond engagement ring since there is more pure platinum in it. Also, it is 66% heavier than 14k gold.

Platinum has a naturally white metal with a beautiful brilliance that emphasizes the brilliance and shine of diamonds or diamond alternatives.

24 Karat gold is 100 % pure gold. It is, however, too soft to be used in most jewelry. As a result, gold is mixed with other alloys to make it more durable and secure for gemstone settings, such as 18 karat gold (75 % pure gold) and 14 karat gold, which is the most commonly used in fine jewelry (58.3 % pure gold).

Pick the color of the metal band.

The common engagement ring colors of gold are white, yellow, and rose. White gold is the most popular choice for an engagement ring

Find out the finger size needed.

Hopefully, you already know the right finger size. If not, use one of our measurement tools. Click here to figure the finger size you need.
How to Buy A Diamond Engagement Ring in Albuquerque, NM?
To eliminate any mistakes while purchasing an engagement ring, you should set your own budget, pick the right seller, and read carefully the return policies available. Read more...
Set The Right Budget: How Much Should You Spend?

You've probably heard about the general guideline that an engagement ring should cost 2 to 3 months of your salary. Also, according to The Knot's 2021 - How Much to Spend on an Engagement Ring, the average American spends $6,000 on an engagement ring. That is why, there is no such thing as "the perfect" amount to spend on an engagement ring. You should only spend what you can afford and evaluate your personal financial status.
If you are on a "tight" budget, you should be able to find flexible payment options, 0% APR financing such as Affirm, a layaway plan, or credit payment options.

The Best Diamond Alternatives:

Lab grown and especially lab created diamonds such as moissanite, considered the most unique alternative to a diamond, cost on average 90% less than diamonds of equal quality (see the 4C's).
If you can't afford your "dream ring" right now, you should consider upgrading your engagement ring at the appropriate date. This is something your jeweler should be able to help you with.

Why is acquiring online a better option than acquiring at a brick and mortar store?

Spend less money without sacrificing quality: Online retailers do not have the same storefront costs as brick-and-mortar retailers, so they may pass the savings on to their customers.
Larger choice of engagement rings: Visiting several stores in person to look at a small selection of engagement rings would take longer than browsing hundreds of engagement rings styles online.
Time-saving, 24/7 shopping: Customers can save a lot of time and money by buying an engagement ring online. There is no more stress anymore to go from one jeweler to the next without guarantee to find what you are expecting.

Virtual shopping experience:

Nowadays, you can shop virtually from the comfort of your own home or office at any time of day by using Zoom or Facetime and buying the perfect engagement ring from a most extensive collection.
You'll get your selection the next day. You will be protected by a risk-free purchase, free shipping, and an easy return, depending on the merchant you select.

Return policy

Before buying online, make sure the seller gives: risk-free purchase; certificates; free shipping and returns
Click here to see What's So Great About Getting Your Engagement Ring From Venazia?

How to choose the right seller in Albuquerque, NM?

Check the seller's reputation and reviews. Verify the authenticity of his certificate from the Gemologist Institutes (GIA, IGI, GRA), Charles & Colvard, or Venazia. You should also conduct some research on complaints (B.B.B; Better Business Bureau) and determine whether his reviews are genuine based on real customer experience.
At Venazia, we are working closely with our customers to make the process of buying the perfect diamond engagement ring easy.
You are just a phone call away from getting all you need to know before choosing your diamond engagement ring.
Custom Design Your Diamond Engagement Rings In Albuquerque, NM
You can't find what you want? Do you have an idea in mind? Custom design your diamond engagement ring is the best alternative.
In virtually no time, our expert in Albuquerque, NM will walk you through each stage of making your one-of-a-kind diamond engagement ring.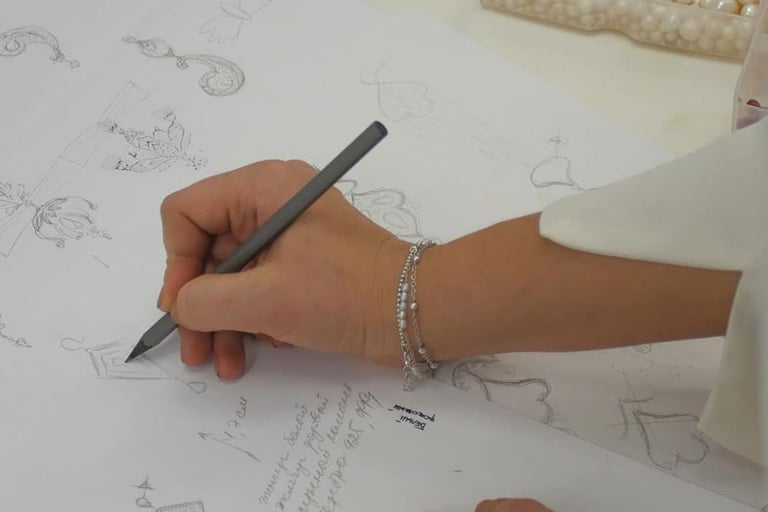 Tips To Customize Your Diamond Engagement Ring
The process of creating an engagement ring custom design in Albuquerque, NM is considerably easier than you might imagine. Please call us to discuss your concept; we'll tell you what you'll need to make your project a reality.

How to obtain some information about your concept?
Make a rough drawing of your concept.
Look for sketches elements on the internet.
Look for pictures that strike your eyes to further explain your desired style.
Send us your concept in Albuquerque, and we will look it over and give you some suggestions.
The more specific you can be with your ideas, the more likely you are to get exactly what you want.
5 Steps To Customize Your Diamond Engagement Ring in Albuquerque, NM
Reception of your project

Our designers will go through your project and will give you an estimate.

Creation of your ring

After your approval, our designers will make your ring and will prepare a full-color illustration, which is a picture created using computer-aided design, or CAD.

Approval

Once you receive the CAD illustration of the final product, you will be able to give input and shift directions if it's not what you expected or wanted.

Creation of a wax version of the ring

Once approved, we will create a wax version of the ring using 3D printers.

Creation of your engagement ring

We will cast the diamond engagement ring wax into the precious metal and color of your choice.
      Our jewelers will prepare your diamond engagement ring in no time.
Ask our team of consultants to help you
Which Style and Setting to Pick for A Diamond Engagement Ring?
There is a distinction to be made between styles and settings when selecting an engagement ring.
The Three Major Engagement Rings Styles
Solitaire ring

The most classic and traditional engagement ring. Featuring one center stone on a simple band to optimize the sparkle, brilliance, and fire of your ring.
Our store in Albuquerque, NM carry the most extensive collection of solitaire engagement rings.

Halo ring

Small gemstones surround the center stone. It improve the sparkle and gives the impression of a larger center stone.
We offer the largest panel of halo engagement rings in Albuquerque, NM.

Three Stone ring

Represent your past, present, and future all at once. To give the engagement ring additional depth, the center stone is frequently positioned higher than the side stones.
Talk to our expert in Albuquerque about three stone engagement rings.
The Different Settings Of Engagement Rings
Setting refers to how gemstones are set into a metal band.The purpose of a ring setting is to enhance the elegance of an engagement ring.
Prong Setting

The prong setting features slim metal arms that securely cradle the diamond at the girdle.

Pave Setting

In the pavé setting, the surface appears to be paved with diamonds set closely together.

Channel Setting

The channel setting features diamonds set within two parallel walls of metal inside the band.

In order to further assist you in selecting your diamond engagement ring, we have included a list of setting terminology and descriptions in our FAQs Read more…
Discover Our Engagement Rings Collection Around Albuquerque, NM
Request assistance from our team of consultants, who will provide you with all of the information you want.
What Shape Of Diamond Engagement Ring ?
Understanding the differences between the available shapes might help you find the appropriate moissanite engagement ring.
Gemstone Shapes
Round shape

This is the most common shape. The round brilliant design enhances light return better than most other shapes because to its cut.

Cushion shape

The cushion is square in shape with rounded corners. Larger faceting in the cushion cut contributes to the fire and sparkle.

Emerald shape

The unique look of the emerald cut diamond is due to the step cuts of its pavilion and its large, open table with cascading rectangular facets.

Pear shape

The modified brilliant-cut pear shaped diamond has a tapering tip on one end and is a combination of a round and a marquise shape.

Oval shape

The oval shape is an elongated round brilliant shape with the brilliance of a round brilliant shape, giving the appearance of a larger diamond.

Princess shape

The princess shape is the most popular fancy diamond shape. They provide exceptional sparkle and brilliance.

Marquise shape

The marquise shape is like an oval that comes to fine points, showing the optimal number of facets to accentuate the fire and brilliance.

Radiant shape

The radiant cut shape is the first rectangular cut to have a complete brilliant-cut facet creating a vibrant and lively gemstone.

Asscher shape

The asscher cut diamond is similar to the emerald cut, but in a square shape with larger step facets, a higher crown, and a smaller table.

Heart shape

The modified brilliant-cut heart shaped diamond is a unique and ultimate symbol of love.
Discover Our Engagement Rings Collection Per Shape Near Albuquerque, NM
Please contact us for a free consultation with one of our experts to assist you in selecting the shape she will treasure.
Get A Free Consultation With One Of Our Expert In Albuquerque, NM
Do not hesitate to contact us and get a live assistance from a jewelry expert or customer service.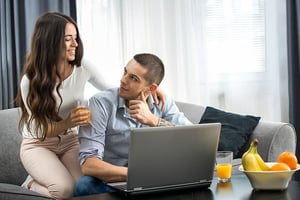 Call us now and get an instant, engagement free, personalized consultation with one of our professionals to help you make the most unique decision based on your own wishes.
You can also schedule a free virtual video consultation, in order to get a better rendering of the different engagement rings available.
Diamond Engagement Rings Near Albuquerque, NM
Bracelets in Albuquerque, NM
Earrings in Albuquerque, NM
Engagement Rings in Albuquerque, NM
Jewelry On Sale Now in Albuquerque, NM
Necklaces in Albuquerque, NM
Pendants in Albuquerque, NM
Top 10 Engagement Rings in Albuquerque, NM
Top 10 Fine Jewelry in Albuquerque, NM
Wedding Bands in Albuquerque, NM