Unveiling the Timeless Beauty: Wedding Eternity Rings
Explore the timeless beauty of wedding eternity rings. Discover exquisite designs and symbols of everlasting love in our comprehensive guide.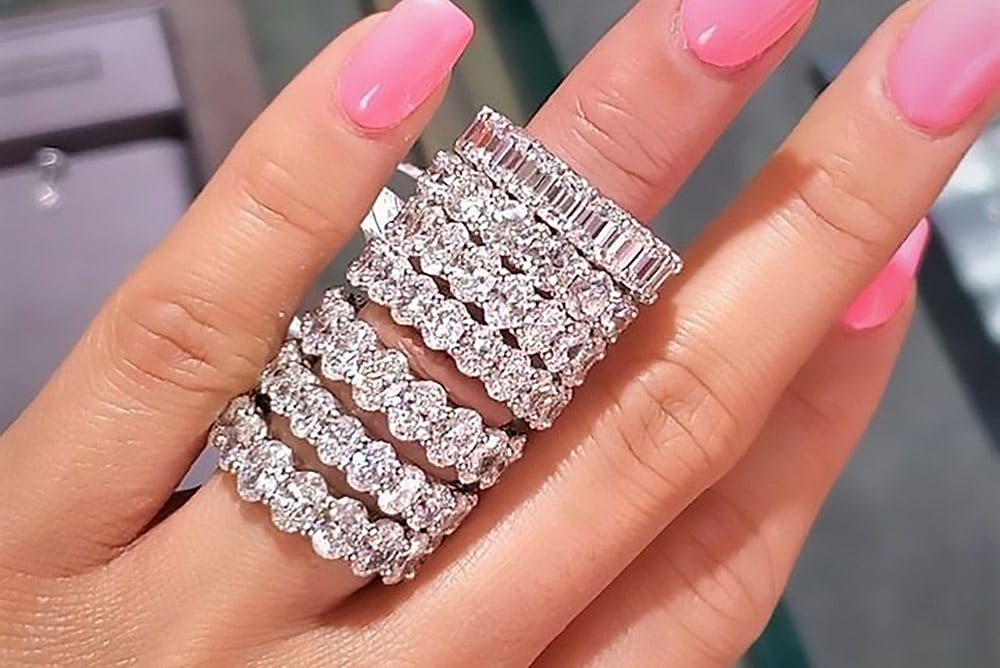 When it comes to immortalizing the bond of love and commitment, wedding eternity rings have long been a symbol of eternal devotion. With their captivating designs and exquisite craftsmanship, these rings serve as a perpetual reminder of the unbreakable bond shared between two individuals.
In this blog, we will explore the enchanting world of wedding eternity rings, showcasing an array of shapes and styles to help you find the perfect ring that symbolizes your everlasting love.
The Significance Of Wedding Eternity Rings
Wedding eternity rings hold a profound significance in love and commitment. They represent the eternal nature of a couple's love and serve as a testament to their enduring union.
These rings are often given to commemorate special milestones, such as anniversaries or the birth of a child, further solidifying the bond the couple shares. The circular shape of eternity rings represents the unending cycle of love and unity.
The Timeless Appeal Of Wedding Eternity Rings
The allure of wedding eternity rings lies in their timeless beauty and elegance. Crafted with meticulous attention to detail, these rings feature a continuous band of precious metal adorned with dazzling gemstones.
The seamless circle of stones symbolizes the unbroken bond and infinite love between two individuals. Their classic yet versatile designs make them suitable for any occasion, whether an elegant soirée or a casual gathering.
Shop By Shape
Discovering Your Perfect Match: Wedding eternity rings come in various shapes, each with unique charm and appeal. Let's explore some popular options:


Choosing The Perfect Metal And Gemstone
In addition to the shape, the choice of metal and gemstone further enhances the beauty of wedding eternity rings.
Metal Type:
Platinum is a classic metal option that exudes sophistication with its luxurious and durable nature.
Gold, available in shades like yellow, white, and rose, adds warmth and versatility to the ring's design.
Gemstones
When it comes to gemstones, there are several options to consider.
Moissanite, a stunning and ethical alternative to diamonds, offers exceptional brilliance and fire.
Lab-grown diamonds, created in a controlled environment, provide a sustainable and visually identical choice to natural diamonds.
Natural diamonds, renowned for their enduring beauty, offer a timeless and traditional option that has captivated hearts for centuries.
Caring For Your Wedding Eternity Ring
Proper care and maintenance are essential to ensure the longevity and radiance of your wedding eternity ring.
Regular cleaning and inspection by a professional jeweler help keep the gemstones sparkling and the metal pristine. When not wearing the ring, store it in a soft cloth or a jewelry box to protect it from scratches and damage.
Conclusion
As you embark on choosing a wedding eternity ring, remember that it is not just a piece of jewelry but a timeless symbol of your love and commitment. With an extensive variety of shapes, metals, and gemstones available, you can find a ring that perfectly encapsulates your unique love story.
Whether you opt for the brilliance of moissanite, the ethical choice of lab-grown diamonds, or the classic allure of natural diamonds, your wedding eternity ring will forever be a cherished keepsake, embodying the eternal bond you share with your partner.