All you Need to Know About Hoops Earrings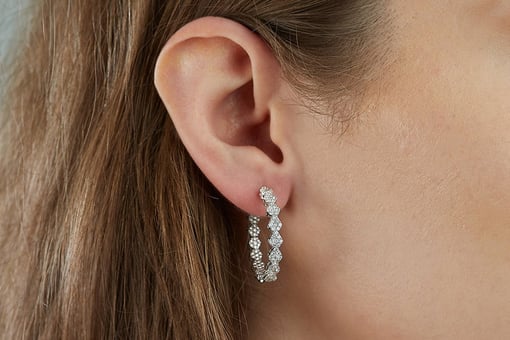 Hoop earrings are a type of jewelry that consists of a circular or semi-circular loop. They can be made of metal, plastic, or other materials and come in a variety of sizes and styles.
What are the different types of hoop earrings?
Hoop earrings come in many different styles, including classic hoops, huggies, chandeliers, statement hoops, and more.
Are hoop earrings in style?
Yes, hoop earrings are always in style. They have been around for centuries and have been a staple in many fashion trends.
How do I clean hoop earrings?
To clean hoop earrings, you can use a mild soap and water solution and a soft cloth. Make sure to dry the earrings completely afterward.
How do I wear hoop earrings?
There are many ways to wear hoop earrings. You can wear them alone or with other earrings, like studs or drops. You can also wear them with your hair up or down, or with a headband.
What are the benefits of wearing hoop earrings?
Hoop earrings are very versatile and can be worn for any occasion. They also look great with any outfit, and can make a statement without being too flashy.
How do I measure my earlobes for hoop earrings?
You can measure your earlobes for hoop earrings by using a measuring tape or ruler. Measure the diameter of your earlobe, and then use that measurement to determine the size of hoop earrings you need.
How do I choose the right hoop earrings for my face shape?
When choosing hoop earrings for your face shape, consider the size of your face and the size of the hoop. Small hoops can look great on a round face, while large hoops can look great on an oval face.
How do I know if my hoop earrings are real?
You can tell if your hoop earrings are real by looking for a stamp or marking. Most jewelry pieces have a stamp or marking that indicates the metal content, such as "925" for sterling silver, "750" for 18K gold, or "14K" for 14K gold.
How do I care for my hoop earrings?
You should take care of your hoop earrings by storing them properly and cleaning them regularly. Always store your hoop earrings in a jewelry box or container, and use a mild soap and water solution to clean them. Dry them completely after cleaning.