All you Need to Know About Eternity Rings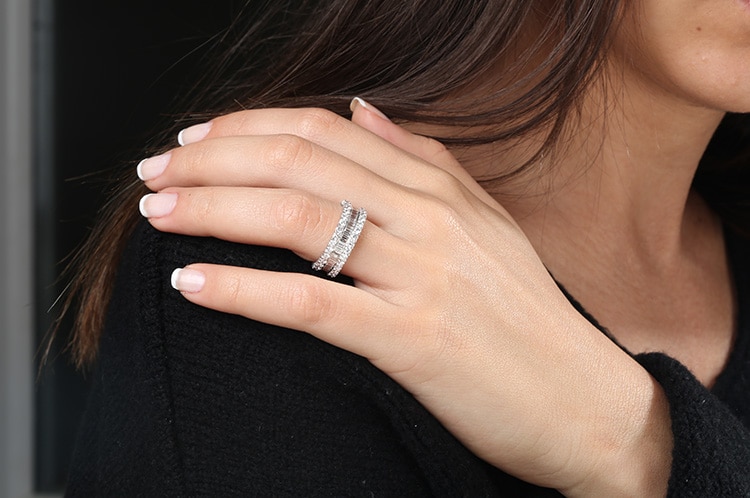 - What is an eternity ring?
An eternity ring is a type of ring featuring a continuous band of diamonds or gemstones, symbolizing eternal love and commitment.
- When are eternity rings typically given?
Eternity rings are often given on special occasions such as anniversaries, significant milestones, or as a gift after the birth of a child.
- What types of stones are commonly used in eternity rings?
Eternity rings often feature diamonds, lab-grown diamonds, moissanite but they can also include other gemstones, such as sapphires, emeralds.
- Are there different styles of eternity rings?
Eternity rings come in various styles, including full eternity (with stones all around the band) and half eternity (with stones across the front portion of the band).
- How do I choose the right metal for an eternity ring?
Popular choices for eternity ring metals include white gold, yellow gold, rose gold, and platinum, depending on your personal preference.
- Can I personalize an eternity ring with a specific design?
Many jewelers offer customization options, allowing you to choose the design and gemstones that have a special meaning to you.
- How should I clean and maintain an eternity ring?
Clean your eternity ring with mild soapy water and a soft brush to maintain the brilliance of the diamonds or gemstones.
- Is it possible to resize an eternity ring?
Eternity rings can be challenging to resize due to the continuous row of stones, so it's essential to get the correct size initially.
- Are eternity rings only given in romantic relationships?
Eternity rings can be given in various relationships, not just romantic ones, to symbolize everlasting bonds and love.
- What is the significance of an eternity ring's circular design?
The continuous circle represents never-ending love and commitment, making it a meaningful symbol for special relationships.